Balfours is an Australian Wholesale Bakery
Balfours Bakery is Australia's oldest Bakery established in Adelaide, 1853. Today, we manufacture and distribute quality sweets and savouries from our oven door in Australia. We are proudly Australian owned and operated.
Our Range Of Bakery Supplies
We have a wide range of baked goods suitable for all dietary requirements. While we are famous for our favourite square pie, choccy donut, custard tart and the iconic frog cake™ our range extends into a contemporary offering which includes ranges focused on health, vegetarian and vegan savoury options. We are a contemporary baked goods manufacturer able to cater to the local café and coffee house to the national supermarket.
Download our complete product range here alternatively contact our customer call centre for more specific information on our services and our products available today.
Balfours Commercial Bakery Promise
We are a commercial bakery with customer service at our core. We specialise in the manufacture and distribution of quality baked goods, nationwide. From our favourite pies, pasties and sausage rolls to our iconic donuts, custard tarts, cakes and sponges, we are acclaimed for our product quality and customer service.
From our oven doors in Australia, we produce sweet and savoury products tailored to our customers tastes. We have the experience and expertise to put together a product range to stock your retail space, refresh your cabinets and surprise and delight your consumers no matter their dietary requirements.
The Story of Australia's Oldest Bakery Balfours
Balfours is Australia's oldest bakery. We trace our history back to 1853 when Margaret Balfour and James Calder arrived in Adelaide, bringing with them the finest traditions in European baking. Through prosperous times, depressions, bankruptcy, technological evolution, two world wars and changing consumer tastes, we've kept those traditions alive with our much loved range of baked goods. Click here for The Balfours Story.
Balfours Bakery Blog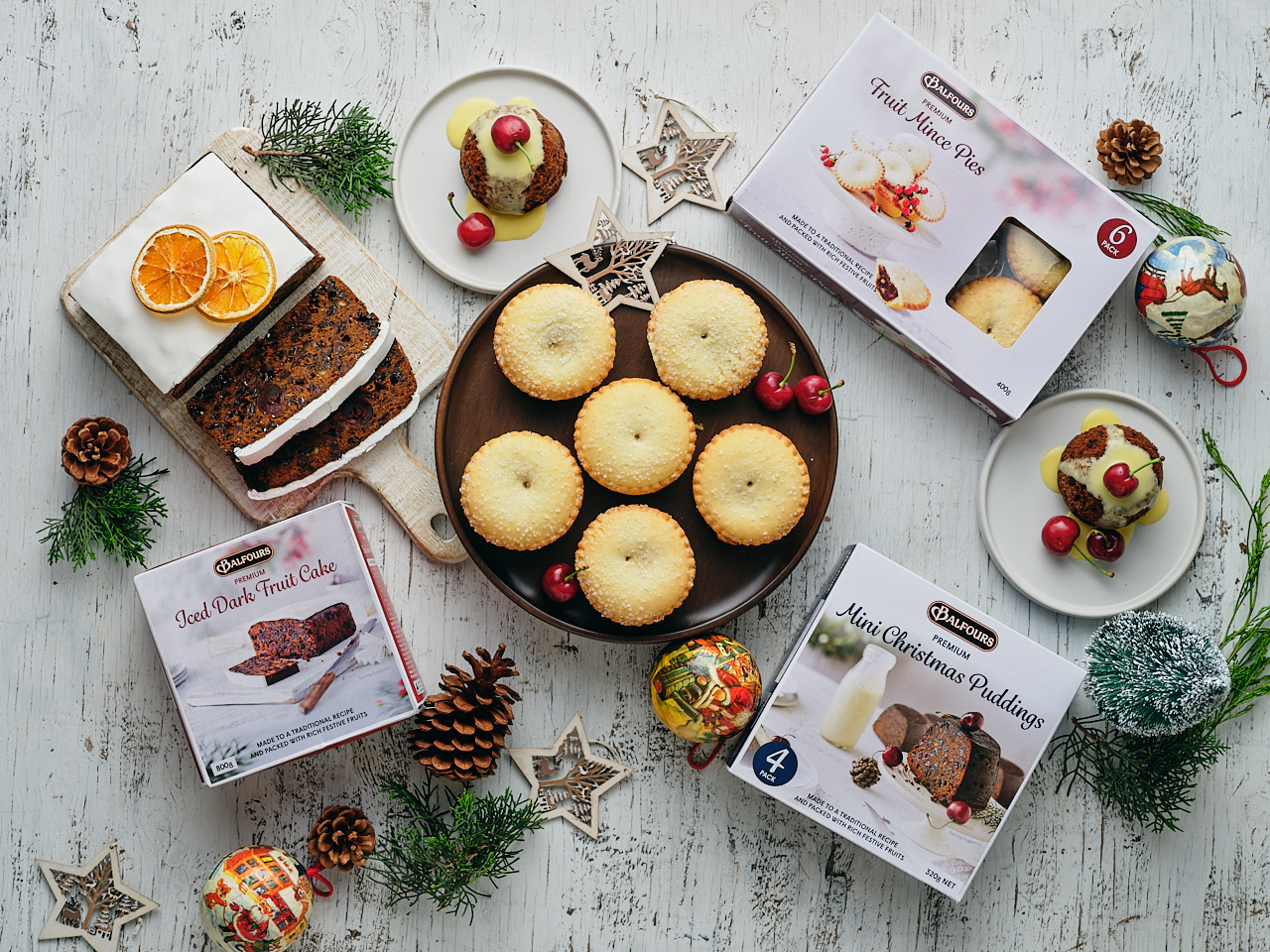 Make hosting easy with Balfours range of Christmas baked goods
Celebrate Christmas with Balfours range of festive treats. Made to traditional recipes, the festive range of baked goods is packed with rich festive fruits. Available in 5 mouth-watering varieties, there is something to suit everyone. Shop the range instore now!…
[Read More]
Easter 2023
Celebrate Easter with Balfours Hot Cross Buns! Available in 6 varieties there's something to suit everyone! Shop the range instore now or visit the City X or Marion Balfours Café for a warm toasted bun with butter! Drakes, Foodland and Independent Supermarkets: Traditional Fruit Hot Cross Buns Fruitless Hot Cross Buns Choc Chip Hot Cross [...]…
[Read More]
Balfours Releases Its First Plant-Based No Meat Pie.
Australia's oldest bakery and South Australian icon Balfours introduces its first plant-based meat pie to complement its innovative range of fresh vegan pastries. Balfours, Australia's oldest bakery, established 1853, extends its range of premium fresh vegan savouries with the addition of a new plant-based no meat pie. The 200g vegan-friendly pie is packed with textured [...]…
[Read More]